Movie Review: World Trade Center
U.S. Release Date: 8/9/06
Running Time: 2:09
Rated: PG-13 (intense and emotional content, some disturbing images and language)
Cast: Nicolas Cage, Michael Pena, Maggie Gyllenhaal, Maria Bello, Stephen Dorff, Jay Hernandez, Michael Shannon
Director: Olive Stone
Producer: Donald J. Lee Jr., Norm Golightly
Screenplay: Andrea Berloff
Music: Craig Armstrong
Studio: Paramount Pictures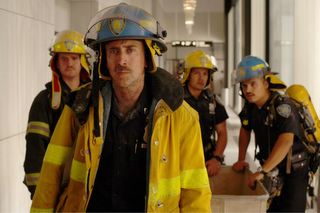 No review of
World Trade Center
would be inclusive without first comparing Oliver Stone's production to that of
United 93
and/or
Flight 93
. While both the big-screen and the made-for-TV accounts of United Airlines Flight 93 are predominantly focused on the in-air terrorism of 9/11,
World Trade Center
recounts the story of that same second Tuesday of September from ground zero. The result is a film that is harrowing, emotional, yet surprisingly hopeful. However, the question for most is, "Is it too early?"
Is it too early to sit and watch a retelling of a day so tragic? Is Stone's depiction of the World Trade Center attacks just a commercial glorification of something so recent and so altogether personal? Initially, this may appear to be the case. On the other hand, perceptions can be deceiving.
As Sergeant John McLoughlin (Nicolas Cage) and rookie Officer Will Jimeno (Michael Pena) begin their everyday watch over the Port Authority bus terminal on 42nd Street in Manhattan, the shadow of a plane suddenly washes over them. The impact is only heard, and the damage is only imagined.
Once the Port Authority officers arrive at the base of the World Trade Center, they view the destruction and the horror. The officers have no choice but to enter and help to evacuate the towers.
When the North Tower collapses like a thunderous tornado, Sergeant McLoughlin and Officer Jimeno become trapped in the freight elevator 5 region of the concourse level, between Towers 1 and 2. Pinned by and buried under 20 feet of rubble, McLaughlin and Jimeno are forced to endure (as one reporter called it) "complete chaos and utter hell." Banged up, bleeding, and burned, the two courageous men strive to survive and unite with both their wives (played by Maria Bello and Maggie Gyllenhaal respectively) and children.
Despite the film emitting an overall silent and cold aura, the audience is inevitably lifted up come the closing. While the opening credits inform that the film is based on the "actual accounts of the surviving participants," it is a true story that is calculable, yet so emotionally striking simultaneously. Only 20 people were pulled from the wreckage alive; McLaughlin and Jimeno were numbers 18 and 19.
The film's only negative is that it may be a tad too "Hollywood" for a reenactment of a disastrous event that is only five years removed. Nonetheless,
World Trade Center
is still a film that all should see. It is the story of a paramedic redefined; an ex-marine determined to avenge his country; and both a memento and a requiem to the courageous men and women of the NYPD and the PAPD (among others) who lost their lives on that fateful day.
Underneath its shell of 9/11 terrorism,
World Trade Center
is a powerful story about love, hope, and the clout of perseverance. It makes you want to latch onto those you care about and never let them go. Additionally, it reminds us all to never take our lives or our loved ones for granted, and it leaves us all feeling proud of the country we live in and simultaneously grateful for who we are and what we have. (***1/2 out of ****)
© Copyright Brandon Valentine 2006