Movie Review: The Godfather Part II
United States, 1974
Running Time: 3:20
Rated: R (Violence, mature themes, language)
Cast: Al Pacino, Robert DeNiro, Robert Duvall, Diane Keaton, Talia Shire, Lee Strasberg, John Cazale, G. D. Spradlin
Director: Francis Ford Coppola
Producer: Francis Ford Coppola
Screenplay: Francis Ford Coppola and Mario Puzo based on the novel by Mario Puzo
Music: Nino Rota
Studio: Paramount Pictures
In English and Italian with subtitles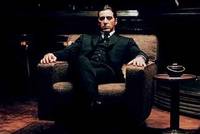 The term sequel is a word frequently applauded among production studios and appalled among critics. However, most recently,
The Lord of the Rings
trilogy proved that sequels can equal or better the very majesty that birthed them. In the '70's,
The Godfather
spawned
Part II
– an effort that matches the marvelous original in both size and scope.
The Godfather Part II
is the only sequel to grab the Oscar for Best Picture besides the 2004 winner,
The Lord of the Rings: Return of the King
. With that said,
The Godfather Part II
is an entrancing continuation of a hard-to-top masterpiece and a film that can best be described as refined, realized, and remarkable. It is the prime example of how to construct an epic motion-picture; it's long, yet substantive in its characterizations and masterful in its presentation.
In a series of extended flashbacks, we observe the beginnings of Vito Corleone (Oreste Baldini). After both his parents and brother were murdered by Don Francesco Ciccio (Giuseppe Sillato), Vito flees to America to start anew. In America, Vito (Robert De Niro) lives as an impoverished immigrant for quite some time, but eventually, his ambitions overcome him. Before long, Vito is one of the most powerful men in New York.
Meanwhile, amid the flashbacks, we witness the growth of both Michael Corleone (Al Pacino) and his inherited Mafia empire. Some forty years later, the times are changing, and so are the family's relations. Michael soon suspects that there is a traitor within the Family. In addition, he realizes that both his sister Connie (Talia Shire) and wife Kay (Diane Keaton) are becoming rebellious and untrusting. Michael must identify who sold him out, restore his family's ties, and attempt to make the Family business legitimate once more.
As expected, the acting is top-of-the-line. Robert Duvall, Diane Keaton, and John Cazale all return and provide exceptional support. Robert De Niro is superlative as the young Vito—exhibiting both signs of Brando's signature raspy voice and a spot-on Italian dialect. Lastly, Al Pacino is both convincing and menacing in his reprise role of Michael. He successfully makes it apparent that his character truly cherishes his father's values and wants to uphold his legacy. At the same time, the expression on his face – post Kay's revelation – is priceless. There should be no question as to why Pacino was nominated for Best Actor in a Leading Role in 1975.
Is
Part II
better than the original? As far as I am concerned, both are compelling enough to be deemed masterworks. While
Part II
does not quite keep on pace with the emotions and iconography of its predecessor, its style of splitting the storylines and driving home the sizeable "like-father-like-son" theme is exquisite. Three cheers for
The Godfather Part II
– one of the best sequels in all of cinema. I bow to thee and kiss thy hand;
The Godfather
saga of the '70's governs absolute. (**** out of ****)
© Copyright Brandon Valentine 2005