Movie Review: Hitch
United States, 2005
U.S. Release Date: 2/11/05
Running Time: 1:56
Rated: PG-13 (Sexual situations, profanity)
Cast: Will Smith, Eva Mendes, Kevin James, Amber Valletta, Julie Ann Emery
Director: Andy Tennant
Producers: James Lassiter, Will Smith, Teddy Zee
Screenplay: Kevin Bisch
Music: George Fenton
Studio: Columbia Pictures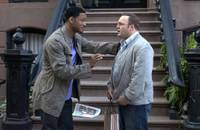 Since the mid-'90s, Will Smith has been a blockbuster name; wherever he goes in Hollywood, the fans and money follow. With
Hitch
, the case is no different.
Hitch
grossed just over $172 million theatrically, and it had good reason to. It is bubbly, comedic, and intelligent—albeit formulaic, and for a couple searching for a respectable romantic-comedy to watch,
Hitch
offers an entertaining evening to say the least. While it may be a tad clichéd and mechanical,
Hitch
gives the audience what it wants—a few good laughs throughout and a warm smile at its close.
It is a factual certainty that women make men weak in the knees. When attempting to obtain a date with a desirable woman, guys primarily fumble for words and stare at curves. For this Achilles' heel, there is a remedy...and his name is Hitch.
Alex "Hitch" Hitchens (Will Smith) is a self-proclaimed "Date Doctor," who provides romantically-challenged men with the confidence and capability they need to not only approach, but also woo the woman they want. Hitch's latest client, Albert Brenneman (Kevin James), serves as his greatest challenge, or as he says, his "Sistine Chapel." Albert is an overweight, apprehensive, and clumsy man who is smitten with his company's most prominent client, named Allegra Cole (Amber Valletta). Hitch provides Albert with everything he has, in hopes to bring the fat man and the phenomenal female together, but it is ultimately up to Albert to impress his burning crush with his corny charm.
Meanwhile, Hitch meets world-weary gossip columnist, Sara Melas (Eva Mendes). A relationship begins to bud between the two. Conversely, for some reason, Hitch can't seem to apply the very same love tactics he teaches to other men in need.
Will Smith reunites with the very same charisma that landed him the role of The Fresh Prince, but this time he plays the guy who gets the girl. It is good to see Smith still succeed outside of the action genre; he plays the Date Doctor with smoothness and flair. However, it is Kevin James who steals every scene in which he inhabits. If there is one thing this film could have used more of, it is definitely The King of Queens. Kevin James makes the transition from CBS TV star to Will Smith's supporting actor with ease. In fact, in the future, do not be surprised to see him soon in more starring roles on the big-screen and less shows on the small-screen.
Even with all of the comedic moments from the duo of Smith and James, the script has a handful of sharp things to say. The remarks on how to use active listening, body language, and poise to connect with a woman are all words that every man should hear. And, the quote, "Any man has a chance to sweep any woman off her feet; he just needs the right broom," serves as not only an apt tagline, but also a clever metaphor.
The best aspect of
Hitch
is certainly the chemistry the cast exudes, and when four leads mesh this well together, the film has recommendation written all over it. With its consistently amiable script and its sweet – yet inevitable – happily-ever-after ending,
Hitch
is quality entertainment that deserves a date. (*** out of ****)
© Copyright Brandon Valentine 2005