Movie Review: Mulholland Drive
United States/France, 2001
U.S. Release Date: 10/12/01 (limited)
Running Time: 2:26
Rated: R (violence, strong sexuality, nudity, profanity)
Cast: Naomi Watts, Laura Elena Harring, Justin Theroux, Ann Miller, Monty Montgomery, Billy Ray Cyrus, Melissa George
Director: David Lynch
Producers: Mary Sweeney, Alain Sarde, Neal Edelstein, Michael Polaire, Tony Krantz
Screenplay: David Lynch
Music: Angelo Badalamenti
Studio: Universal Focus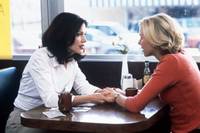 Numerous critics have compared
Mulholland Drive
to a dream—not in a sense that it is light, pleasant, and airy, but rather because in its closing thirty minutes, much of the film plays out like a series of random firings of the brain. There is nothing blithe about
Mulholland Drive
; it is an intense workout of the id and a dark, brain-bending thinker that has the power to blister your cerebellum. To put it plain and simple,
Mulholland Drive
is the most F-ed up film I have ever seen.
Unlike director David Lynch's finest and most complete effort (
Blue Velvet
),
Mulholland Drive
acquires the very same oddity and paucity that can be found in Lynch's
Lost Highway
,
Eraserhead
, and "Twin Peaks" television series.
Mulholland Drive
possesses a narrative that is nonsensical, chock-full-of plot loops, confusing, weird, and spacey. However, while Lynch's latest may be ineffective on an initial viewing and an utter disgrace to simple-minded fans of mainstream movies, on repeat viewings and with both an analytical and open mind,
Mulholland Drive
cascades captivation with each watch.
A young brunette (Laura Elena Harring) is the sole survivor of a car crash atop the hills of Los Angeles, on Mulholland Drive. Before the crash, the woman was held at gunpoint and most likely would have been murdered. After the crash, she forgets who she is and where she is going. Subsequent to stumbling from the crash site, she meanders into an empty LA residence owned by a vacationing actress.
Meanwhile, actress hopeful Betty Elms (Naomi Watts) arrives at her Aunt Ruth's home to stay—only to discover a naked woman in her Aunt's shower. The woman tells Betty that she is her Aunt's friend Rita, after she sees Rita Hayworth's name on a
Gilda
poster hanging on Ruth's bedroom wall. Soon after, Betty realizes that her Aunt Ruth does not know of a Rita; the amnesiac brunette then comes clean. Betty then becomes adamant to discover both who the woman really is and why she was on Mulholland Drive.
Elsewhere, a young director named Adam Kesher (Justin Theroux) is casting for his next feature film. However, strange forces threaten Kesher with an ultimatum: select an up-and-coming actress named Camilla Rhodes (Melissa George) for the part, or suffer the consequences. Conversely, everything you think you know at this point is wrong.
Naomi Watts is brilliant in her multi-dimensional role as the prissy, yet racy, blonde. Laura Elena Harring is exquisite as the countering dazed brunette. And the two sapphic love scenes that these two leads share are just about as sexy as they can get within the R-rated boundaries. In addition to the two femme fatales, the eclectic cast also consists of Justin Theroux as the fresh-faced director and Ann Miller as the not-so-fresh-faced proprietor. Monty Montgomery is also highlighted as the ominous Cowboy, while has-been country music singer Billy Ray Cyrus is spotlighted in a bit part as Gene the pool guy.
Lynch's direction is as flawless as can be. Without a doubt, his compound thriller shows signs of both a warped originality and a Hitchcock influence—warranting his Best Director Oscar nod in 2002. Even though
Mulholland Drive
's running time ought to be pared down, its length enhances the wooziness you receive from the second-half role reversal. All things considered, Lynch's batty brain has created a mélange of disorienting visions, interchanging identities, and baffling supplements; Angelo Badalamenti's dark retro score is timeless and Rebekah Del Rio's Spanish-rendition of Roy Orbison's "Crying" is perhaps the most moving cinematic vocal performance my eyes and ears have ever come in contact with.
By the rolling of the credits, I couldn't tell if I was annoyed, angered, mesmerized, puzzled, or enticed. Either way, I didn't know if I was coming or going. I couldn't tell if my eyes were opened or closed. Exactly what occurred in the interim in beyond me and maybe even beyond Lynch, but nevertheless, it is beyond beguiling. That is precisely what makes David Lynch's 2001 effort unique, daring, and genius. Regardless if he screws with our minds and plays a practical joke on us, in the end, it is no joke that
Mulholland Drive
has guts and guile like no other.
Once
Mulholland Drive
wakes up from its own dream, where it caroms into two separate yet equally enthralling parts, the movie becomes a dream—and not like the dreams within movies that are gratifying and closing, but rather like a real human nightmare—random, eccentric, and unexplainable. For this reason, fans of conventional and formulaic films should stay away. As for those who can tolerate an ambitious mind-cramping mugging of a motion-picture, that confuses more than it resolves, take a ride down
Mulholland Drive
; I give you the green light. (**** out of ****)
© Copyright Brandon Valentine 2005