Movie Review: Saw
United States, 2004
U.S. Release Date: 10/29/04 (wide)
Running Time: 1:40
Rated: R (Violence, gore, profanity)
Cast: Cary Elwes, Leigh Whannell, Danny Glover, Ken Leung, Dina Meyer, Michael Emerson, Monica Potter, Makenzie Vega
Director: James Wan
Producers: Mark Burg, Gregg Hoffman, Oren Koules
Screenplay: Leigh Whannell
Music: Charlie Clouser, Danny Lohner
Studio: Lions Gate Films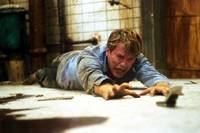 Are you one of those people who, like me, consider horror to be a fading form of cinema? Since the onset of horror, films like
Psycho
and
Halloween
have set the standards with upending originality, but since then, almost every horror picture has been a so-so "who-done-it?" mix of blood, gore, and suspense. Subsequently, if you plan on seeing
Saw
– that is, if you weren't too disturbed by its trailer and tagline – let me tell you this:
Saw
is surprisingly innovative given its genre, but with its inconsistent pacing, under par acting, and cynical final twist, it's a film that most will surely downgrade. Although, I wouldn't be surprised to see a select few hail
Saw
and its inconsistencies as a cult classic.
When asked, "Is
Saw
a picture that I appreciate or depreciate?" my answer is: I'm on the fence. Immediately after leaving the theatre, I felt like I just witnessed a recommendable psychological horror. However, during the drive home, as the time ticked by, less and less of the film started to make sense. As far as the final twist is concerned, it's seems as though freshman screenwriter Leigh Whannell tried to take Nickelback's advice of "let's rewrite an ending that fits, instead of a Hollywood horror", but instead Whannell came up a few pennies short. Not only is the ending overcooked, but it also tries to drive home a message about the importance of appreciating life, health, and family. Even so, despite all of
Saw
's flaws, it is still a disturbing, encompassing, and enthralling motion-picture--if you like this sort of film. In terms of the end result,
Saw
basically presents a good premise that could have been better produced.
The film opens with Adam (Leigh Whannell – who also wrote the screenplay) and Dr. Lawrence Gordon (Cary Elwes – who hasn't been in anything worthy of note since
The Princess Bride
) trapped in an old abandoned restroom that doesn't look like it has seen Mr. Clean's shiny bald head in a few decades. Both Adam and Dr. Gordon find themselves chained to pipes on opposite sides of the room—unable to reach each other or the lifeless body that lies between them in the middle of the floor. They both are given various clues including a key, a bullet, a tape recorder, two tapes with instructions, two saws, and so on. The men are told they are going to play a game and that the only way to win the game is for Dr. Gordon to kill Adam by 6:00pm. Already dumb-founded at how they even ended up in the room, the two men attempt to maintain their composure, solve the puzzle, and make it out of the nightmare alive.
Soon, Adam and Dr. Gordon realize that they are the latest prey of "The Jigsaw Killer"—a madman who takes people captive in order to teach them life's lessons. Regrettably, Dr. Gordon knows that only one of Jigsaw's victims won her respective game and survived—making his and Adam's chances slim-to-none. To further worsen things, Dr. Gordon realizes that there is a lot more at stake than just his and Adam's life. His wife Allyson (Monica Potter) and daughter Diana (Makenzie Vega) are also being held at the mercy of the killer's hand, and as a consequence, if Dr. Gordon doesn't work out a way to kill Adam, then his wife and child will be slain.
In terms of acting, the slender budget shines through—especially considering one of the leads is the very screenwriter himself and a first time actor. Both Cary Elwes and Danny Glover are equally distressing in their portrayals--making it clear that the two of them seem to be, for the most part, washed up. As for the inclusion of Dina Meyer, as Zep, he couldn't have appeared any more suspicious considering he has played a wide-eyed psychopath in the past on ABC's "The Practice". Is Meyer a dead ringer for the psychopath part? Does Danny Glover's voice sound too close to the killer's distortion? Or are these just ways Whannell keeps us guessing?
Just as one would figure, the picture's climax and main revelation occurs closer to crunch time (6:00pm). However, the film's finale – while built up appropriately – is a bit overwrought. During the final 15 minutes, the title of the film comes in handy and the picture literally goes from refreshingly psychological to unequivocally psycho in a matter of minutes.
Nevertheless, Whannell's whole design of two men trapped in a room – restricted to only a few clues and objects – is undeniably intriguing. The film's first 90 minutes play out much like an RPG game for survival—trying to put the Jigsaw Killer's pieces into place. However, the freshman screenwriter's first feature unfolds in its conclusion much like Tarantino's first, and by proposing this comparison, the film's final twist should almost be a dead giveaway.
With its in-need-of-improvement director, James Wan, and its unseemly hardcore score,
Saw
unfortunately dulls and decreases in tooth count. Nonetheless, given its budget, it is a horror feature worth seeing with some minor restrictions. In the long run, there may be too many topics left unclear and one twist too many, but this picture is by no means bad. It's far more original and involving than most Halloween-oriented gore fests, but alas, it's a tad too rusty to function on every level. With some sharpening,
Saw
could have most definitely made a cleaner cut. (**1/2 out of ****)
© Copyright Brandon Valentine 2004