Movie Review: Meet the Fockers
United States, 2004
U.S. Release Date: 12/22/04 (wide)
Running Time: 1:55
Rated: PG-13 (Profanity, sexual situations)
Cast: Robert De Niro, Ben Stiller, Dustin Hoffman, Barbra Streisand, Blythe Danner, Teri Polo
Director: Jay Roach
Producers: Robert De Niro, Jay Roach, Jane Rosenthal
Screenplay: John Hamburg, Jim Herzfeld
Music: Randy Newman
Studio: Universal Pictures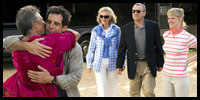 If you obtained a decent abdominal workout courtesy of
Meet the Parents
, then
Meet the Fockers
will almost certainly satisfy.
Meet the Fockers
is for the most part more of the same, but it adds a few novel jokes and twists on memorable circumstances. With the inclusion of three new zany characters, it stays afloat. Beyond a doubt,
Meet the Fockers
is a mildly hilarious sequel – that has the indication it was made for the sole purpose of making money – to a riotous antecedent.
Meet the Fockers
is a tad lower in stature than its predecessor; it still has moments of mirth, but on the whole, it barely contains enough chortles on a consistent basis to keep you entertained and amused.
The happy yet unlucky couple of Gaylord and Pamela (soon-to-be Mr. and Mrs. Focker) are back in full swing and ready to have both of their mothers and fathers meet before they tie the knot. Only this time, things seem to be running quite smoothly for Greg (Ben Stiller) and Pam (Teri Polo)—that is...until the parents come into play.
Jack Byrnes (Robert De Niro), the intimidating and nearly unapproachable father of Pam, has been spending most of his days teaching his grandson, Little Jack (Bradley and Spencer Pickren), how to speak with his hands. While still under the care of Jack and his wife Dina (Blythe Danner), L.J. comes along for the ride to meet Greg's parents Bernie (Dustin Hoffman) and Roz (Barbra Streisand). Bernie is a retired stay-at-home eccentric father, while Roz is a full-time sex therapist for the elderly. As one can imagine, Bernie and Roz supply an insanely awkward and embarrassing series of events for Greg, as he hopes to extend Jack's tight-knit "circle of trust" beyond Byrnes country and into Focker territory.
De Niro plays the part of Jack, the retired CIA agent, with such unwavering ardor as if
Meet the Parents
was shot yesterday. In fact, most members of the cast perfectly match their portrayals of the very same characters they played four years ago—excluding Teri Polo. Teri seems to lose a little luster in playing the part of Pam; this could be accredited to her lack of screen time, but regardless "Pam-cake" comes off unexpectedly flat.
As for the new additions to the cast, Dustin Hoffman and Barbra Streisand pretty much carry the picture. Both of them work wonders as Greg Focker's hippie-intensive parents. Hoffman is just as odd here as he was in
I Heart Huckabees
, and it is not a surprise to see Streisand playing a loose, liberal, yet lovable, mother.
Counteracting Hoffman's and Streisand's powerhouse performances,
Meet the Fockers
injudiciously adds a baby to the scene. The picture poorly relies on a blonde tike for a few laughs in a
Baby's Day Out
kind of way, and because the child is not a part of any of the main characters' nuclear family, he represents a wanton piece to the at times worn-out screenplay.
It is truly a downright shame that the screenwriter duo could not muster up a few more belly laughs, but it seems as though they were too adamant with pressing the same jokes over and over again. The Focker puns are literally beat to death with Randy, Orny, and the term "Fockerized", and once more, Greg is pummeled into the ground for his profession. Also, in the effect of the screenwriter's attempts to pound every last joke to a pulp, the running time takes a thrashing for going a little long.
Nonetheless, even with its tendencies to be both a bit incoherent and excessive as well as its cheesy happy ending,
Meet the Fockers
contains spurts of welcomed highlights. Nothing in the sequel comes as close to the best moments of the original, but
Meet the Fockers
still manages to cleverly rehash the same humor of
Meet the Parents
without directly reiterating its scenes and segments.
In general,
Meet the Fockers
is well-written stupidity (if that can exist) that mainly provides gauche guffaws. The film may be a tad formulaic and trite, but it's still amusing. In short, to what extent you will enjoy
Meet the Fockers
is really contingent on how much you valued the first film. (**1/2 out of ****)
© Copyright Brandon Valentine 2004