Movie Review: Maria Full of Grace
United States/Colombia, 2004
U.S. Release Date: 7/16/04 (limited)
Running Time: 1:41
Rated: R (Drugs, profanity)
Cast: Catalina Sandino Moreno, Yenny Paola Vega, Guilied Lopez, Patricia Rae, Orlando Tobon, John Álex Toro, Wilson Guerrero, Jaime Osorio Gomez
Director: Joshua Marston
Producer: Paul S. Mezey
Screenplay: Joshua Marston
Music: Leonardo Heiblum, Jacobo Lieberman
Studio: Fine Line Features
In Spanish with subtitles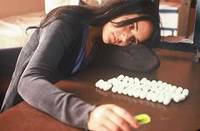 With a title clearly taken from the Catholic "Hail Mary" prayer,
Maria Full of Grace
is a film that one would expect to be packed with religious references and symbolism. However, it isn't. Instead,
Maria Full of Grace
is a straightforward, yet full-fledged, drama that deals with the innate human desire to escape poverty.
Maria Full of Grace
is a gripping and gut-wrenching motion-picture that works on every level. The characters are real; the storyline is well-paced and completely credible; and the overall impression the film gives off is distressing, yet ultimately bittersweet.
Maria Alvarez (Catalina Sandino Moreno) is a young woman living in an economically poverty-stricken Columbia. To help with her family's income, she de-thorns roses in a flower factory. There, in addition to getting her fingertips repeatedly pricked, Maria has a demanding boss whom she cannot stand. Eventually, Maria quits her job – much to her family's dismay – and begins to search elsewhere for employment.
After breaking up with her boyfriend Juan (Wilson Guerrero), who is also the father of her soon-to-be born baby, Maria meets Franklin (John Alex Toro)—a suave, nice-looking man who says he can find her a job. Maria shows interest, and Franklin leads her to Javier (Jaime Osorio Gómez), a drug lord who hires young women to serve as mules to transport heroin into the United States. Javier tells Maria that he will pay her roughly $5,000 (almost 10 million pesos) to swallow pellets (the size of horse pills) full of drugs, retain them in her stomach until she reaches the U.S., and then allow them to exit her digestive tract upon her arrival.
Not only does Maria agree to the deal, but so does her best friend Blanca (Yenny Paola Vega). Both Maria and Blanca end up following through in their attempts to carry the illegal cargo through U.S. customs and beyond. While they are on their journey, they are accompanied by Lucy (Guilied Lopez), a two time veteran of the process. Collectively, all three young ladies are aware that if one single pellet were to burst in their stomach, the results would be lethal. Nonetheless, they are all willing to accept the risk in order to provide a promising future for both themselves and their families.
First time director/screenwriter Joshua Marston unleashes a powerful drama that is so simple, yet still says so much. While his goals aren't entirely political, they are still present—creating a picture with a topic that is sure to be fresh to many minds. Marston's screenplay is crafted perfectly, and his direction of the fabulous lead actress is utterly fantastic. Marston and Moreno match each other both in size and scope. The elements of realism that they both evoke allow
Maria Full of Grace
to be one remarkable expression that all should be subjected to viewing.
Moreno plays her part of the bold and daring seventeen-year-old with such a bona-fide sense of intensity that it all seems natural and unforced. Her acting alone is a breath of fresh air to sit through. Hands down, Moreno dishes out one of the best female leads of the year.
With a story so enthralling about one girl's struggling survival to break out of destitution, strive for independence, and create a better life for her unborn child,
Maria Full of Grace
is an all-around exceptional effort that has the potential to both pull on your heartstrings and wring your insides out. Its mid-movie extended sequence is as tense as them come—not only causing a good amount of butterflies in your stomach, but also a lump or two in your throat.
Even though
Maria Full of Grace
may tend to grab your stomach and squeeze, at long last, it knows when to let go—causing the tension to subside and the emotion to elevate. If you have not yet experienced
Maria Full of Grace
, make sure you set aside the time; it is without a doubt one of 2004's most brilliant. (***1/2 out of ****)
© Copyright Brandon Valentine 2004