Movie Review: Basic
United States, 2003
U.S. Release Date: 3/28/03 (wide)
Running Time: 1:38
Rated: R (Violence, profanity, brief nudity)
Cast: John Travolta, Connie Nielsen, Samuel L. Jackson, Brian Van Holt, Timothy Daly, Giovanni Ribisi, Taye Diggs, Roselyn Sanchez, Harry Connick Jr.
Director: John McTiernan
Producers: Mike Medavoy, Lee Nelson, Dror Soref, Michael Tadross
Screenplay: James Vanderbilt
Music: Klaus Badelt
Studio: Columbia Pictures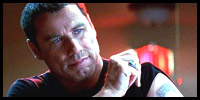 Some have compared
Basic
to
The Usual Suspects,
because of the way its flashbacks, narrations, and point-of-views are presented. These two titles do not even belong in the same sentence.
The Usual Suspects
is a stunning success, while
Basic
just makes a mockery of its audience. Simply stated,
Basic
is a cheap thriller that's below run-of-the-mill. It contains paper-thin characters and far too many twists in plot.
Tom Hardy (John Travolta), a well-known, former army interrogator is called in to assist Lt. Julia Osborne (Connie Nielsen), the rookie house interrogator at Hardy's old pal Pete Wilmer's (Timothy Daly) base. Hardy is hired to complete one simple objective: get answers.
Hardy is told that a routine military training exercise went awry and several soldiers - one of which is Sgt. West (Samuel L. Jackson) - have been declared missing and presumed dead. Once the two survivors (Giovanni Ribisi and Brian Van Holt) are interrogated, it is found that their stories don't match up. The team of questioners, Hardy and Osborne, must crack the case before the higher authority shows up and before Wilmer (Daly) loses his job.
The summary may sound all-and-well, and truthfully the movie is, for the first hour or so, but then there comes a twist--followed by twist after twist after twist. If the number of plot turns was limited to one,
Basic
would have been routine and tolerable. However, the twists and turns are pushed to the absolute limit.
Basic
cracks two-thirds of the way through; from there, it diverts in way too many directions, and results in an overall agitating and unclear motion-picture.
Are audiences still going to be surprised after a third, fourth, and even fifth twist in the story? No; they are more likely to be frustrated and disappointed.
Basic
contains so many improbable twists – so close together – that viewers aren't even given any time to allow each idea to sink in. It's like the filmmakers conjured up the most mindless and least likely twists to happen back-to-back-to-back-to-back. Eventually, it gets to the point where you can't even tell if the movie is going to end or if it is going to add one more twist and continue to play cat-and-mouse with your brain. In the end, the audience just feels toyed with.
Basic
is one of those movies that you may have to watch multiple times to patch up a few holes and to curtail a certain element of confusion. But, who wants to watch a train-wreck-of-a-film more than once just to answer a couple of minor uncertainties? The film's tension and humor may be somewhat enjoyable in the beginning, but after the car derails, you could kick yourself in the caboose for wasting one-hour and thirty-eight minutes. (* out of ****)
© Copyright Brandon Valentine 2004